Chiller Rentals Nationwide
We offer air-cooled and water-cooled chiller plants with 24/7 emergency delivery and installation available.
Rent Ready Portable Temperature Control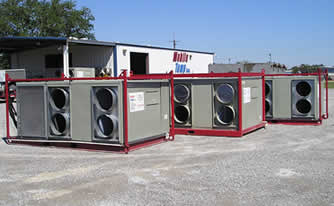 Whether your commercial building needs air conditioning or heating, or dehumidification, or your special event needs temperature change or power, Mobile Temps' qualified personnel can assist in designing and applying the necessary equipment to best meet your needs.
These Trane package units have been modified to meet you needs. Rent ready air conditioner and heaters, skid mounted on sturdy frames with fork pockets and lifting pads or trailer mounted for mobility. Complete with (2) duct connectors on the return and supply sides, 100' power cable, with or without electric heat strips (54KW or 72KW). Sizes available 5-60 tons.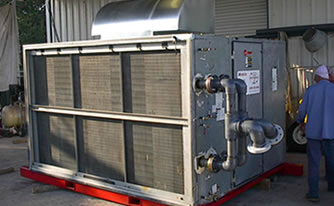 Chill or hot water coil air handlers available. Mounted on skid with fork pockets. Easy quick hose connections with disconnect and power cable. 100 % outside air or plenum available for return air. Multiple duct connectors on supply air. Sizes from 30 tons – 200 tons.